Please find a selection of photgraphs and images for the band, as well as links to our Facebook photstream created for event managers and publicists.
BBO Gallery:
Please visit and feel free to download band photo's from our Facebook Photo-Stream
Meet the band:
Rhythm Section
Adam Linnell – Musical Director & Bass
Adam is the band leader having taken over from the band's founder Roy Hole. Bass guitarist and double bass player, Adam started his musical career on Trombone. He is a regular performer and plays in many local shows and with local bands. He is also the main bass player in Sir Duke as well as the Paul Sykes Big Band.
Adam has taken over the reigns of Musical Direction in 2016 and is now responsible for selecting the music for live performance, as well as leading the band in rehearsals.
Ian Sands – Drums
Ian took over the drum chair from the much loved, long-serving BBO member Brian Green in January 2019. Ian is a highly versatile player, fluent in all contemporary styles of music and his playing career has taken him all over the world. As well as playing with the BBO, he is in demand as a freelance professional player and as a teacher of drums and percussion, both in the schools and privately from his home studio in Wooburn Green. www.prodrumtuition.co.uk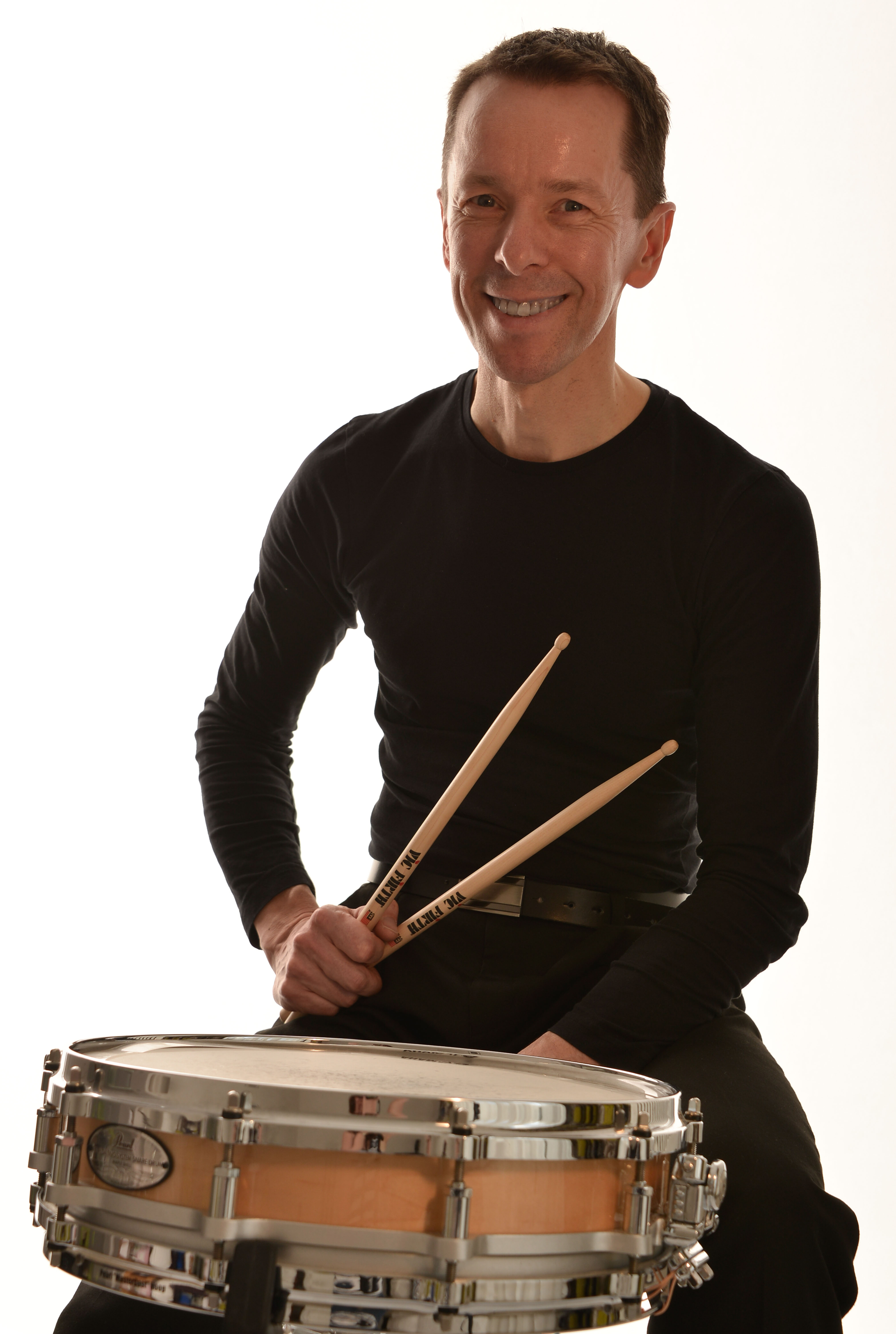 Brian Greene – Drums
Brian joined the band in 2006 after being a regular dep for Chris Dennis for a couple of years. Brian is a freelance professional player, teacher and foudner of the Online Music School Gigajam. His playing credits include: George Benson, Cliff Richard, The Platters, The Drifters and Gerard Kenny. He is currently drummer with Blues artist Cherry Lee Mewis and Rock Band Space Elevator.
Mick Hamilton – Guitar
Mick is well known as a rock guitarist, but plays wonderful Jazz guitar in the big band. He is featured on the Cd Life's a rehearsal on the theme from rocky as well as on Every Summer Night a song composed by Pat Metheny. Mick has further features on the band's Timeline Concert DVD soloing during Weather Report's Birdland.
Ron Long – Piano
Ron Long is the band's longest serving member and the only remaining original member, having sat behind the Piano for everyone of the band's 29 year history. A band favourite Ron is a wonderfully natural musician and is known for his performances of classics such as I remember Stan. Roy Hole said "Ron just gets better and better'.
Trombone Section
Bill Skelton – Trombone
Trombonist, Bill has led the band for over 14 years and stood down to concentrate again on enjoying the trombone and playing.
Toby Gucklhorn – Trombone
Toby is our Trombone section leader and is a full time professional musician mixing teaching and performing in his work. Toby is currently in the brass section of the Suzi Quatro band, who are a busy touring band, especially during the festival season.

Hilary Spiers –  Trombone
Hilary owns a trombone.

Stuart King – Trombone
Stuart is the director of music at Bishopshalt Performing Arts College. Old friends with Adam Linnell they were both members of Hillingdon Youth Orchestra. Multi instrumentalist, Stuart also plays Piano and has been known to sing the odd tune with the band.
Sax Section
Simon Sharp is one half of the Sharp sax duo and plays in local band Gently Jazz. (pictured far right). Jim Philip is Scottish (pictured second from the right). As it is a requirement for at least one member of the Sax section to be from north of the border. Well know for his clarinet playing and signature feature Begin the Beguine. An absolute gentleman, Jim also plays baritone sax in the Remix Jazz Orchestra. 
Section leader, Rod Kirton is one of our longest serving members and joined the BBO after his own band, run with his brother Barry disbanded in the mid 90's. (pictured in the middle)
Mike Booker is our tenor sax player, who comes with a wealth of experience. He also plays with the remix Jazz Orchestra  and is one of the most heavily featured soloists in the band. Diminutive and perfectly formed(pictured here second from the left).
Prudence Sharp is the other half of the Sharp sax duo, book-ending the sax section beautifully. Pru plays with Simon in local band Gently Jazz. (pictured on the far left)
Trumpet Section
Simon Campbell drives a long way from Northamptonshire to be in the band. I am not sure why and who benefits, but hey ho! Very funny and lovely player.([pictured at the far left of the back row)
Dick Hanson has an enormous musical CV. He is currently, along with Toby, a member of the Suzi Quatro band. As second Trumpet, Dick is another heavily featured soloist in the band. Sadly not in this picture, as we had the wonderful Lee Buckingham joining us for one night only(pictured to Simon's left). Mike Turvey is the lead of the Trumpet section and is featured on our CD with the classic Stardust. (pictured to Lee's left).
Bob Hughes( pictured on the far right in the back row) plays Trumpet in the BBO, having retired from playing the trombone professionally. A fabulous musician Bob holds senior roles with The Royal Academy of Music and the Birmingham Conservatoire. I am afraid that he is Welsh, but we are bound by diversity legislation! He holds the nickname Handsome for obvious reasons.
Vocalists
Tricia is the original singer with the band and is both ever present and a huge favourite with the band and our audience.