Join us for an evening of classic swing, jazz and big band music in a special fundraising event in aid of our branch of Parkinson's UK. It'll be at the Amersham Polish Club, 8pm Saturday, 8 October 2022.
It's going to be a great night! Everyone welcome – why not get a group of friends together and join us?
Seating at tables
Private bar with drinks at low "club" prices
Plenty of free parking
Jo Edworthy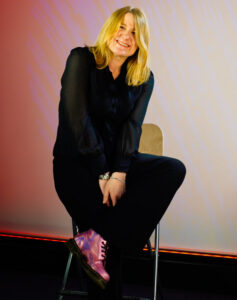 Jo is a mezzo-soprano whose musical path has led her from being a professional opera singer with opera companies including Glyndebourne and Welsh National Opera to vocal coaching, choir directing, examining and leading therapeutic singing groups for our own branch of Parkinson's UK as well as The Alzheimer's Society.
Jo has been an international examiner for the Associated Board of the Royal Schools of Music for the past decade and she teaches singing at Wycombe Abbey Girls School alongside her own private teaching practice.
BBO Big Band
Formed in 1986, the BBO Big Band is made up of professional and semi-pro musicians and those who have retired from the business but just can't stop coming back.
The 17-piece band comprises saxophones, trumpets, trombones and a rhythm section of piano, guitar, bass and drums. All are drawn together by the infectious drive and swing of the big band repertoire. It is the music that holds the band together and the results continue to be in demand.
8pm Saturday, 8 October 2022
Doors open 7.30pm
Tickets
Tickets for the evening are £18 per person and you can book through Ticket Source in one of two ways:
Online: Click on this Ticket Source logo (no booking fee)
Phone: 0333 666 3366 (telephone service fee £2)
Whichever way you book, you can have your tickets delivered by email to print at home, sent to your mobile phone by text message or sent to you by post.
Contact
E: Email events team
T: 0300 030 5889
Venue
Amersham Polish Club, Raans Road HP6 6LX.
Blue badge parking is available directly outside the venue. Alternative parking opposite the venue.
Post navigation