The BBO Big Band's next month end gig is:
Thursday 30th November 2017@ 8.15pm
Marlow Royal British Legion Hall, Station Approach, Marlow SL7 1NT  
Tickets £8 on the door 
BBO 2017  - Live! 
Our remaining 2017 schedule is below. These will include the month end concerts at RBL Marlow, and all live concerts.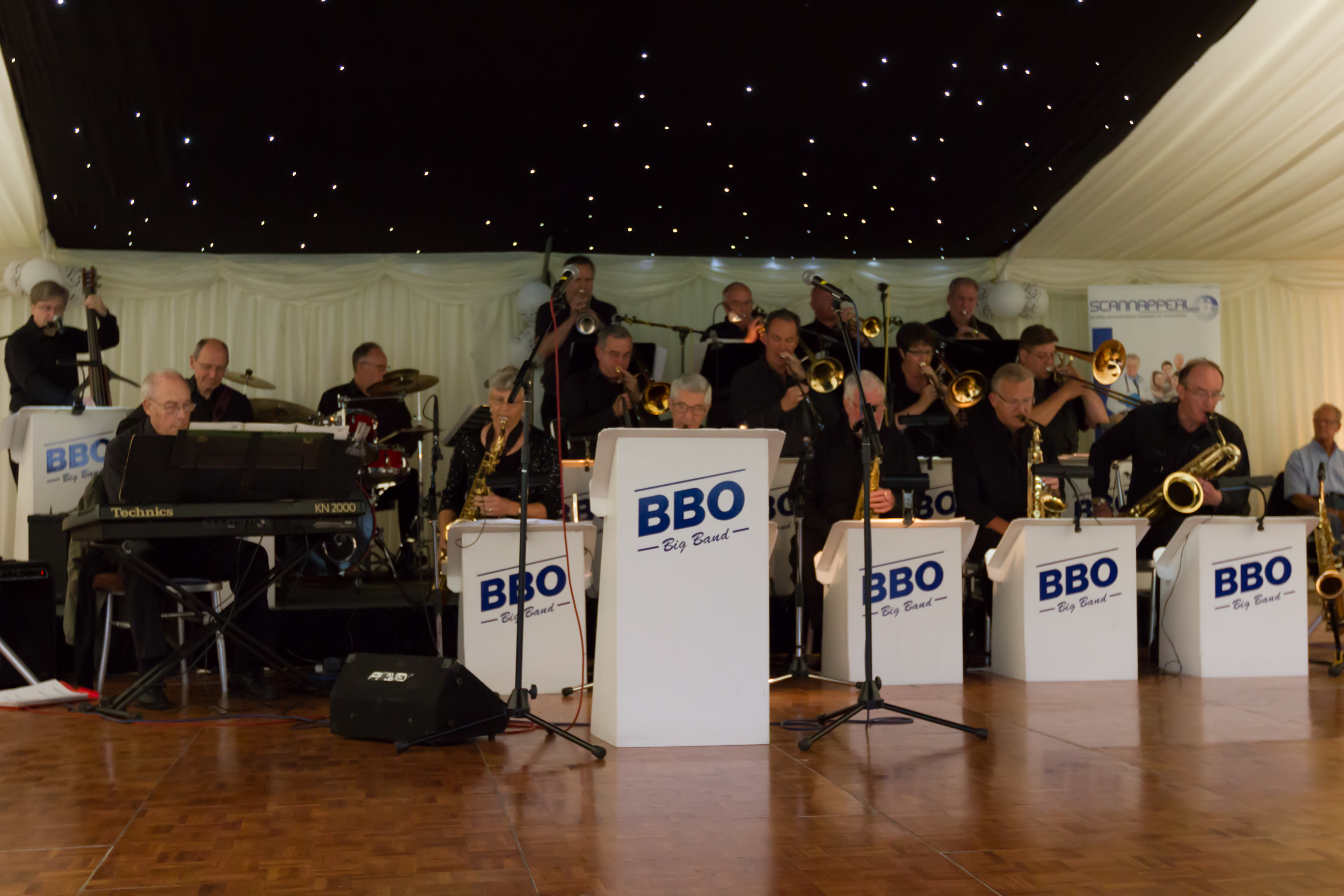 Date         Day              Venue              Charity                    Time
| | | | | |
| --- | --- | --- | --- | --- |
| 17/11/2017 | Friday | Bishopshalt School – Clare Sadler Trust | Candlelight Jazz | 7.30pm |
| 30/11/2017 | Thursday | RBL Club – End of Month | MNDA £8 | 8.15pm |
| 21/12/2018 | Thursday | RBL Club – End of Month |  RBL £10 | 8:15pm |
| | | | | |
| --- | --- | --- | --- | --- |
| Date | Day | Where | What | Time |
| 25/01/2018 | Thursday | RBL Club – End of Month | Age Concern Marlow | 8.15pm |
| 22/02/2018 | Thursday | RBL Club – End of Month | Sue Ryder Care home | 8.15pm |
| 18/03/2018 | Sunday | Phyllis Court Henley | Live Jazz Event | 7.00pm |
| 29/03/2018 | Thursday | RBL Club – End of Month | Iain Rennie Hospice | 8.15pm |
| 26/04/2018 | Thursday | RBL Club – End of Month | The Walk Centre Kenya | 8.15pm |
| 31/05/2018 | Thursday | RBL Club – End of Month | British Legion Roof Fund | 8.15pm |
| 28/06/2018 | Thursday | RBL Club – End of Month | Elizabeth House | 8.15pm |
| 26/07/2018 | Thursday | RBL Club – End of Month?? | If we have one | 8.15pm |
| 22/08/2018 | Wednesday | Binfield Heath Flower Show | Binfield Heath | 8.00pm |
| 27/09/2018 | Thursday | RBL Club – End of Month | Go Go Grandmothers | 8.15pm |
| 25/10/2018 | Thursday | RBL Club – End of Month | BL Poppy appeal | 8.15pm |
| 09/11/2018 | Friday | RBL Cippenham | Slough Poppy Appeal | 9.00pm |
| 16/11/2018 | Friday | Bishopshalt School – Clare Sadler Trust | Candlelight Jazz | 7.30pm |
| 29/11/2018 | Thursday | RBL Club – End of Month | MNDA | 8.15pm |
| 20/12/2018 | Thursday | RBL Club – End of Month | If we have one | 8.15pm |
| | | | | |
| --- | --- | --- | --- | --- |
| | | | | |
| | | | | |
| | | | | |
| | | | | |
| | | | | |
| | | | | |
| | | | | |
| | | | | |
| | | | | |
| | | | | |
| | | | | |
| | | | | |
| | | | | |
| | | | | |
| | | | | |
| | | | | |
| | | | | |
| | | | | |
| | | | | |
| | | | | |
| | | | | |
| | | | | |
| | | | | |