Peter Mayhew is and always will be a much loved member of the BBO and has a permanent place in the band and it's legacy.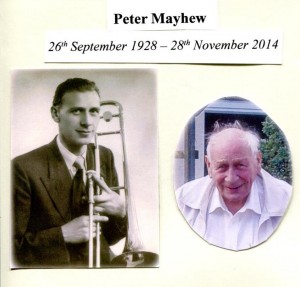 Peter was born on the 26th September 1928 and sadly died on the 28th November 2014.
Before the BBO Peter was a member of the Morris Motors band from Cowley, Oxford, which was formed in 1924. Its first Vice President was the late Viscount Nuffield.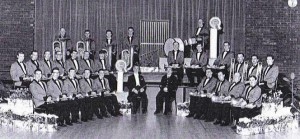 Harry Mortimer O.B.E. was musical director from 1945. Such was the calibre of this band that it made over 500 broadcasts, appeared on television and made numerous records.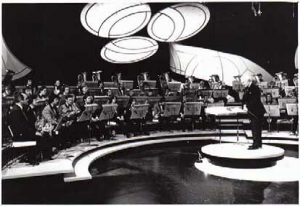 They received many accolades including: the honour of being Southern Area Champions 17 times, West of England Champions in 1960, Regional Champions, Bristol 1970, Wills National Champions 1970 and prize winners on 5 occasions at the British Open Championships at Belle Vue, Manchester.
They undertook many concert tours abroad to destinations including Canada, The Netherlands, Denmark, Sweden, Norway, Switzerland and Northern Ireland. The Band was proud to be one of the original Men O' Brass team founded by Harry Mortimer. They appeared on BBC TV's World of Music program under Harry's direction.
Peter was one of the earliest members of the BBO and was one of the Oxford contingent, from whom the bands name Bucks, Berks, Oxon Big Band was derived. BBO will always have Mayhew in its name and history.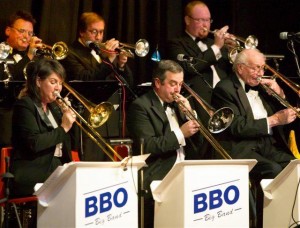 Peter here is featured here with the BBO, sat on the far right besides Band leader Bill Skelton and Hilary Spiers who were just two of his great friends and admirers.